Hey guys!
Today I'm sharing five of my fave recipes--three dinners, one app/snack, and one dessert.
I have been collecting recipes for the last couple years and have quite the collection. I get them from magazines, pinterest, websites, my mom, and now Blue Apron (will do a post on Blue Apron in the next couple weeks). I have so many that I made four binders and divided them up by desserts, apps/snacks, breakfast/lunch/dinner, and mixed drinks (for entertaining). So here we go with some yummy recipes....
(links are in titles)
Power Nachos
Ingredients
1 teaspoon olive oil

1 (15.5-oz) can cannellini beans, rinsed and drained, divided

1 tablespoon cilantro leaves, finely chopped, plus leaves for garnish

3 tablespoons fresh lime juice, divided

1 rib celery, thinly sliced

1/4 red onion, thinly sliced

4 ounces multigrain tortilla chips

4 ounces reduced-fat cheddar cheese, grated

1/2 avocado, diced

Salsa (for serving)
Preparation
1. Preheat oven to 400°F.
2. In a medium bowl, mash the oil, 1 cup beans, chopped cilantro, and 2 TBSP lime juice. In another bowl, toss the celery, onion, 3/4 cup beans, and 1 TBSP lime juice.
3. Spread chips on a baking sheet; cover with the cheese. Bake until cheese melts.
4. Top the hot nachos with the bean mixtures, avocado, and salsa; garnish with cilantro leaves.
Recipe developed by Frances Boswell
These power nachos are so delicious! I crave this recipe. I could seriously eat this every day. I do change two things on this. Instead of cilantro, I use scallions and I don't use salsa. It's a light snack and much more healthy than your basic nacho recipe. You have to try this!
Ingredients
8 ounces cream cheese, softened
1 1/2 tablespoons dried chives
1 1/2 tablespoons fresh onion minced
3 chicken breasts, cooked and diced (around 3 cups)
2 (8 ounce) cans Pillsbury crescent rolls
Italian bread crumbs (around 2 cups)
Gravy:
1 (14.5 ounce) can cream of chicken soup
1 (0.87) package chicken gravy mix
Instructions
1. Preheat oven to 350 degrees.
2. Using a hand mixer or by hand, beat cream cheese and sour cream until well combined. You can do this by hand if your cream cheese is soft enough. Stir in salt, pepper, onion, chives, and diced chicken.
3. Using Pillsbury crescent rolls, take 2 triangular rolls and push together at perforated seam to make into a square. Make sure you seal the perforations well so your filling doesn't come out. Put about 3 tablespoons of chicken mixture in the center of each square. Fold the dough corners to the center over the chicken mixture forming a pillow.
4. Dip each pillow in melted butter on both sides. Roll in bread crumbs on both sides. Shake excess crumbs off. Place chicken pillow on cookie sheet and bake at 350 degrees for 20-25 minutes.
5. Make gravy by mixing one package of chicken gravy mix, one can of cream of chicken soup and ¾ can of water in a small pot. Mix together and heat until warm. Serve chicken pillows with gravy poured over top.
Recipe from The Girl Who Ate Everything
I am obsessed with this recipe!! This is probably my favorite chicken recipe ever. I can easily eat two of these at one time if I wanted...but I don't. I always save one for lunch the next day so that I can savor it one more time. The prep takes a little bit but I believe it's totally worth it.
INGREDIENTS
1 loaf french bread
2 Tablespoons finely chopped onion
1 can cream of mushroom soup
2 teaspoons Worcestershire sauce
salt and pepper, to taste
1 1/2 cups shredded cheddar cheese
1/2 Tablespoon chopped parsley (optional)
Preheat oven to 350° F. Slice the french bread in half, lengthwise, so you have two equal pieces. Scoop out the bread in the center of each piece. Place bread in a large bowl and tear into small chunks. Set the two halves of french bread onto a large baking sheet. Set aside.
Brown the ground beef and onion in a large skillet, over medium-high heat. Drain any grease. Add the celery and garlic to skillet. Cook a few minutes until celery is tender. Next, add soup, milk and Worcestershire sauce. Season with salt and pepper. Stir and cook mixture until heated; another 5 minutes or so.
Add the beef mixture to the bread in the large bowl. Stir to combine. Pour mixture into the center of one half of the french bread. Spread out evenly. Top the mixture with the shredded cheese. Top with the other half of bread.
Bake for 10 to 15 minutes, or until cheese is melted. Remove from oven and let stand 5 minutes before slicing and serving. Enjoy!
Recipe from Life in the Lofthouse
This is a new recipe I recently found and I really enjoyed it. My boyfriend too! It's pretty easy to make and so yummy! I only changed one thing on this. Since my boyfriend and I don't like mushroom anything...I swapped out the cream of mushroom soup for cream of potato and it was excellent. Highly recommend!
2

Boneless, Center-Cut Pork Chops

6

Ounces Mini Sweet Peppers
Wash and dry the fresh produce. Heat a medium pot of salted water to boiling on high. Quarter the potatoes lengthwise. Peel and thinly slice the shallot. Cut off and discard the stems of the peppers; remove and discard the ribs and seeds, keeping the peppers intact. Thinly slice the peppers into rings. Small dice the cheese (discarding any rind).
Add the
potatoes
to the pot of boiling water. Cook 15 to 17 minutes, or until just tender when pierced with a fork. Drain thoroughly.
While the potatoes cook, in a medium pan (nonstick, if you have one), heat 1 teaspoon of olive oil on medium-high until hot. Add the
shallot
and
peppers
; season with salt and pepper. Cook, stirring occasionally, 2 to 3 minutes, or until slightly softened. Add the
tomato paste
,
sugar
and
dried
oregano
; cook, stirring frequently, 1 to 2 minutes, or until the tomato paste is dark red and fragrant. Add the
vinegar
and
1/4 cup of water
; season with salt and pepper. Cook, stirring occasionally, 1 to 2 minutes, or until thickened and saucy. Transfer to a bowl and season with salt and pepper to taste. Set aside in a warm place. Rinse and wipe out the pan.
While the potatoes continue to cook, place the
flour
on a plate. Pat the
pork chops
dry with paper towels. Along the edge opposite the fat, carefully cut a horizontal slit nearly all the way through each pork chop, creating a "pocket." Stuff with the
cheese
; press gently to flatten each pork chop. Season both sides of the stuffed pork chops with salt and pepper. Carefully coat the seasoned pork chops in the flour (tapping off any excess) and transfer to a separate plate.
While the potatoes continue to cook, in the same pan, heat 2 teaspoons of olive oil on medium-high until hot. Add the
coated pork chops
and cook 4 to 6 minutes per side, or until browned and cooked through and the cheese has melted. Leaving any browned bits (or fond) in the pan, transfer to a plate and set aside in a warm place to rest for at least 5 minutes.
While the pork chops rest, add the
boiled potatoes
, cut sides down, to the pan of reserved fond. (If the pan seems dry, add 1 teaspoon of olive oil.) Cook on medium-high 1 to 2 minutes on each cut side, or until browned. Turn off the heat. Season with salt and pepper to taste. Divide the
rested pork chops
and finished potatoes between 2 dishes. Top with the
sauce
. Enjoy!
Recipe from Blue Apron
I recently tried Blue Apron and this was the first recipe we recieved. I won't get into too much detail about Blue Apron because I will do a separate post on them coming soon so stay tuned! This whole recipe was fantastic. Yes, it's a little time consuming so make sure you are not in a rush when you make this, but it is very much worth it. So good!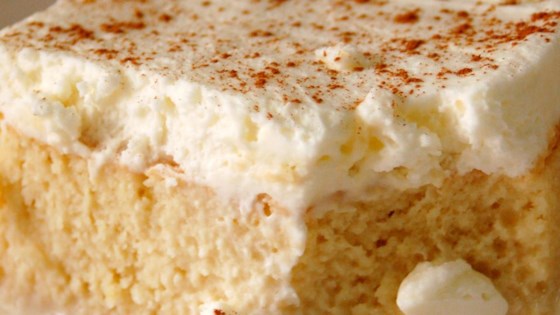 Okay, so the recipe I have is from my mom. I'm not sure if she kinda made her own or what but it's slightly different than all the recipes I found under this title. I did link one up top with the slightly different recipe, but I am going to write out below the one I have and ate plenty of times! Another thing I noticed is that all the recipes include a topping and mine does not. That is your personal preference. I honestly don't think it needs any kind of topping so however you want to make it is fine.
Cake: 1 package (18.25 ounces) plain yellow cake mix
1 package (3.4 ounces) vanilla instant pudding mix
1 cup vegetable oil, such as canola, corn, or safflower
Milk Syurp: 1 can (12 ounces) evaporated milk
1 can (14 ounces) sweetened condensed milk
1 cup heavy whipping cream
1 teaspoon pure vanilla extract
Place a rack in the center of the oven and preheat the oven to 350. Butter a 13 x 9 inch baking pan. Set the pan aside.
Place the cake mix, pudding mix, milk, oil, and eggs in a large mixing bowl. Blend with an electric mixer on low speed for 1 minute. Stop the machine and scrape down the sides of the bowl with a rubber spatula. Increase the mixer speed to medium and beat 2 minutes more, scraping the sides down again if needed. The batter should look well blended. Pour the batter into the prepared pan, smoothing it out with the rubber spatula. Place the pan in the oven.
Bake the cake until it is golden brown and springs back when lightly pressed with your finger, 32-34 minutes. Remove the pan from the oven and place it on a wire rack to cool for 2 hours.
When the cake has thoroughly cooled, pierce the top all over with the tines of a fork or a wooden skewer. The holes should completely cover the top.
Prepare the syrup. Whisk together the evaporated and condensed milks, the cream, and vanilla in a medium bowl. Using a large spoon or ladle, spoon this milk syrup over the cake, letting it soak into the cake between spoonfuls. Continue spooning on syrup until all has been used.
Cover the cake with plastic wrap and chill for 2 hours before serving.
I am in loveeee with this recipe. I could easily eat half of this in one sitting! The cake is so moist and the fact that it's cold makes it even better. I can't describe why I love the taste of this so much but I'm addicted.
And there ya have it! Let me know if you try any of these and what you thought!
Thanks so much for reading!